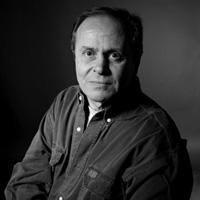 Aclan Uraz was born in Bursa in 1955. After studying economic at university, he worked in advertisement section for 10 years. He started in photography in 1986 and joined IFSAK as a trainee.
He had his first solo exhibition "Child Workers" in 1987. In 1988, he started teaching photography at IFSAK. Between 1990 and 1992, Uraz served as a chairman of the board of director in IFSAK. He has had many solo exhibitions in Turkey and abroad. He has represented Turkey in many international biennials. He has served as a jury in numerous photography competitions. His works can be seen in many private collections. His portfolio consist of 12 photographs, which was a part of his project "Child Workers" was purchased in 1991 and has been kept in the collection of Bibliotheque Nationale in Paris. In 1992, Uraz received the title of AFIAP from the Federation of International Art Photography (FIAP). In the same year, he published the photo album "Child Workers" (Istanbul H/P, 1992). In 1995, he republished the photo album "Child Workers 2" and had his second solo exhibitions.
This was exhibited in Turkey and abroad many times. He has also published the photograph album "Saturday Mothers" (Istanbul: Çağdaş, 1998). Currently, Uraz teaches photography at several universities including Istanbul University, Kocaeli University, and Haliç University.